Simply Whiter Teeth with KöR Whitening
There are many reasons why you may be interested in whitening your teeth.  It could be a storybook wedding, an important job interview, a graduation, or a first date.  Teeth whitening can often be a frustrating, problematic and unpredictable proposition. Historically, whitening system companies have promised ease-of-use, outstanding results and happy patients.  But you've probably experienced a gap between what's promised and what's delivered. We have tried almost all of them with varying results.
The KöR Whitening system solves all of these concerns and we have been blown away with the results!  KöR uses a combination of at-home custom KöR whitening KöR-Seal™ trays that are made by a dental laboratory, and in-office whitening. The trays are worn at night while you sleep for two consecutive weeks.  Clinical Research Associates (CRA) as well as other researchers have found that whitening gel in conventional whitening trays is only strongly active for 25-35 minutes. This is due to rapid contamination of the whitening gel by saliva.  KöR whitening KöR-Seal™ trays are specifically designed to seal both saliva and sulcular fluid out of the whitening trays.   After completion of the at-home treatment, there is an in-office visit that takes about two hours.  This visit is where the results really shine!
Widely recognized as the world's most effective teeth whitening system, KöR offers cost-effective solutions from phenomenal home whitening for average patients, to astonishing treatment of tetracycline cases and everything in-between.  Please give our office a call at (248) 973-8788 to schedule a consultation visit to see if you are a candidate for KöR Whitening.
Here is the before and after picture of one of our patients: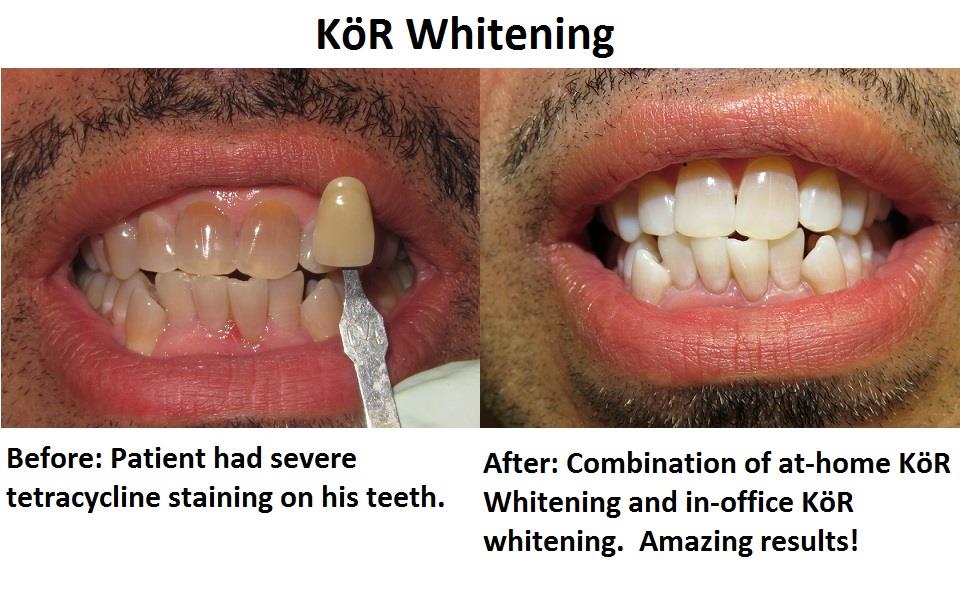 At Caring Smiles Family Dentistry, we love sharing great dental health tips, contests, and special announcements on our Facebook and Instagram pages.  Please join us on our journey of changing lives one smile at a time.