Why Are They Called Wisdom Teeth?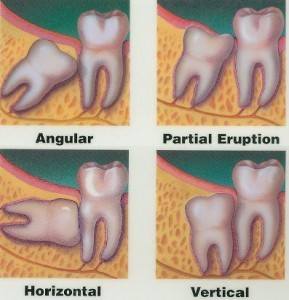 Terms for third molars have dated back thousands of years.  Hippocrates refers to these teeth as sophronisteres, from the Greek sophron, meaning prudent.  So in Classical Greece, they were the prudent teeth. Later, in Rome, they were given the name dentes sapientiae, which literally translates as "teeth of wisdom." This was the term first used in English, around the mid-17th century, and continued to be used until the mid-19th century, when simply "Wisdom Teeth" was adopted.
The third molars generally appear much later than other teeth, usually between the ages of 17 and 25 when a person reaches adulthood.
They are generally thought to be called "Wisdom Teeth" because they are the last teeth to appear when people are supposedly wiser.  They most often have to be removed since they are either impacted and cannot fully erupt or they cannot be cleaned, will become infected or and infect the other teeth.  Everyone's "Wisdom Teeth" do not need to be removed if they are fully erupted or not causing other dental related problems.
If you have any concerns about your "Wisdom Teeth," please give our office a call at (248) 973-8788 and we would be happy to see you for a consultation.
At Caring Smiles Family Dentistry, we love sharing great dental health tips, contests, and special announcements on our Facebook and Instagram pages. Please join us on our journey of changing lives one smile at a time.
If you have any questions about this or any other dental issues, or would like to make an appointment for a dental exam, cleaning, or consultation, please give us a call at 248.973.8788. We are here for you!