Caring Smiles 1 Year Anniversary Recap | Facebook Live
July 18, 2017, marked exactly one year since we opened Caring Smiles Family Dentistry.  To give thanks to all of the support of our patients over the year, we had our first ever Facebook Live broadcast.  We gave away a lot of awesome prizes including a 50 Inch HD LED TV to our patients.  If you didn't participate in the Facebook Live event, you can view it below.
---
Congratulations To All Of Our Raffle Prize Winners!
---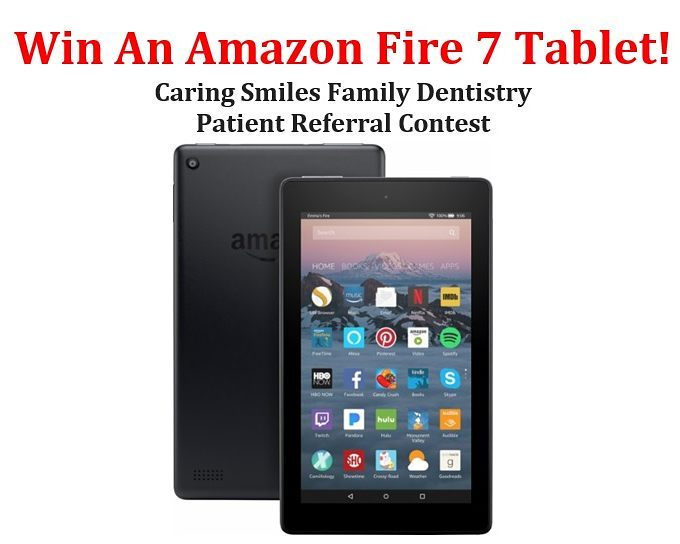 We truly appreciate all of our new patient referrals. To give thanks to all of you who have referred someone to our office, we will be having a random drawing on September 28, 2017, where one lucky patient will win an Amazon Fire 7 Tablet.
Contest Rules:
·Any new patient who you refer to us will count as 1 entry into our contest. The more patients you refer, the more entries you will have! There is no limit to the number of entries.
·The new patient that you refer must be seen here between July 18, 2017 and September 28, 2017.
·To count, the patient you refer must tell us that you referred them, and they must receive treatment. (X-rays, exams, and cleanings are also considered treatment.)
·Contest winner must agree to have his/her picture taken for use on our office Facebook and Instagram accounts, and in our e-newsletter.
Drawing will be held on September 28, 2017
---
At Caring Smiles Family Dentistry, we love sharing great dental health tips, contests, and special announcements on our Facebook and Instagram pages.  We would love for you to join us on our journey of changing lives one smile at a time.   Click on the images below to check us out and don't forget to Like and Follow Us!