What is a Deep Cleaning (Scaling and Root Planing) and Why Do I Need One?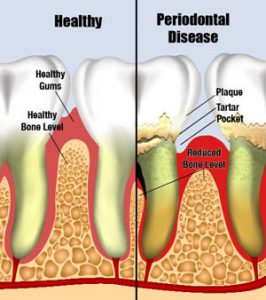 Eating a healthy diet, brushing and flossing daily, and visiting the dentist regularly will result in maintaining healthy gums and bone level.  If one falls into this category, his or her regular dental check-ups will consist of a regular cleaning.  If one's oral health begins to decline, that person may be recommended to have a deep cleaning.  What is a deep cleaning exactly?  It is a type of cleaning used to treat periodontal disease.
Periodontal Disease
Periodontal disease is a broad term used to describe various diseases that affect the gums, bone and surrounding structures of the teeth. The 2001 Guinness Book of World Records lists Periodontal Disease as the #1 disease affecting mankind. The most common types of adult periodontal disease are gingivitis and periodontitis.
Gingivitis is inflammation of the gum tissue. This causes bleeding and reddening of the gums. This happens when bacteria increases in mass to form a paste-like substance called plaque.  Gingivitis can be reversed to healthy gum tissue with proper in-office treatment and at-home care.
Periodontitis damages the bone and connective tissue that support the teeth. Accumulation of plaque and tartar covering the teeth are the beginning stages of periodontal diseases. Tarter is long standing plaque that has absorbed calcium on the tooth surface.  Bone loss caused by periodontitis cannot be reversed but can be controlled and progression of bone loss can be prevented with proper in-office treatment and at-home care.

Risk Factors for Periodontal Disease
Poor dental hygiene
Poorly contoured fillings or crowns
Poor nutrition
Smoking
Chewing Tobacco
High levels of stress
Diabetes
Downs' Syndrome
AIDS
Taking certain medications: steroids, oral contraceptives and blood pressure medications
Genetics: children of parents with periodontitis are 12 times more likely to have the bacteria that can lead to periodontal disease.
Warning Signs and Symptoms of Periodontal Disease
The existence of bony destruction under the gums cannot be visually detected. This makes it especially important to visit your dentist regularly.
Some early warning signs include:
Bleeding gums
Red, tender, puffy or swollen gums
Pain or tenderness in the gums
Itchy sensation
Teeth that are lose or shifting
Tooth sensitivity
Constant bad breath or taste
Changes in your bite
Changes in the fit of your oral appliance (i.e. partial denture)
Gums that are pulling away from the teeth (i.e. recession)
If left untreated, periodontal disease can lead to tooth loss.  Research indicates that periodontal disease may contribute to diabetes, respiratory diseases, heart attack, stroke, or be associated with premature childbirth.
Prevention of Periodontal Disease
Good oral hygiene and visiting your dentist regularly can stop the disease's progression
Eating a balanced diet to supply nutrients for good health
Proper use of a toothbrush, toothpaste, dental floss and mouthwash
Drinking at least seven glasses of water per day to increase saliva in the mouth
Deep Cleaning (Scaling and Root Planing)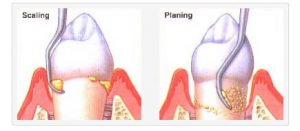 Scaling and root planing removes plaque and tartar from below your gum line.  This controls the growth of harmful bacteria.  It also helps gums reattach firmly to the teeth.  Because this procedure goes deeper than a regular cleaning, your mouth may be numbed.  The cleaning visit may take two to four or more visits to complete.  
Scaling 
is a type of cleaning.  It removes plaque and tartar from around and below the gum line.  
Root Planing 
involves scraping and smoothing the root surfaces of your teeth. Gum tissue can more firmly reattach to roots that are clean and smooth.
If you have any questions about this or any other dental issues, or would like to make an appointment for a dental exam, cleaning, or consultation, please give us a call at 248.973.8788. We are here for you!  At Caring Smiles Family Dentistry, we love sharing great dental health tips, contests, and special announcements on our Facebook and Instagram pages. Please join us on our journey of changing lives one smile at a time.