Dealing With Dental Anxiety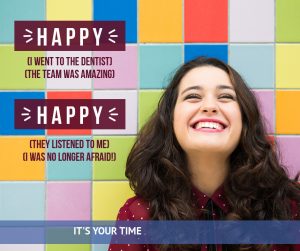 For some people, visiting the dentist can be stressful. It is estimated that 35 million adults have anxiety at the thought of an upcoming dental visit and end up delaying their appointment. At Caring Smiles Family Dentistry, we want you to know that we understand this anxiety and want to make your visit as pleasant as possible.
Here are a few tips to help you relax before and during a dental treatment:
Tell your dentist and the dental staff if you feel fearful, tense, or anxious. Talking about your fears can help your dentist tailor the treatment and pace to suit your needs.

Try to make your dental visit for a time when you won't be rushed. You may find an early morning appointment less stressful than rushing to see the dentist directly after work.

Get a good night's sleep the night before and eat light meals the day of your appointment.

Wear loose, comfortable clothes to your dental appointment. Avoid wearing tight collars or clothes that will restrict your movement.

Arrange a signal ahead of time with the dental staff, such as raising your hand, to let them know that you are feeling discomfort or need a break from a procedure.

Bring some music to listen to during your treatment.

Try visualization. Focus on a relaxing scene from a favorite vacation spot and keep it in your "mind's eye" during the visit.
Please ask us about nitrous oxide (relaxing gas) that is available to help create more relaxed, comfortable dental visits. The type of procedure, your overall health, history of allergies, and your anxiety level are considered when determining which approach is best for your particular case.
Again, our number one goal is to provide you with gentle, quality dental care. Please feel free to contact us today at 248.973.8788 to make an appointment.
At Caring Smiles Family Dentistry, we love sharing great dental health tips, contests, and special announcements on our Facebook and Instagram pages. Please join us on our journey of changing lives one smile at a time.
If you have any questions about this or any other dental issues, or would like to make an appointment for a dental exam, cleaning, or consultation, please give us a call at 248.973.8788. We are here for you!