Facebook Live: Caring Smiles Family Dentistry 1 Year Anniversary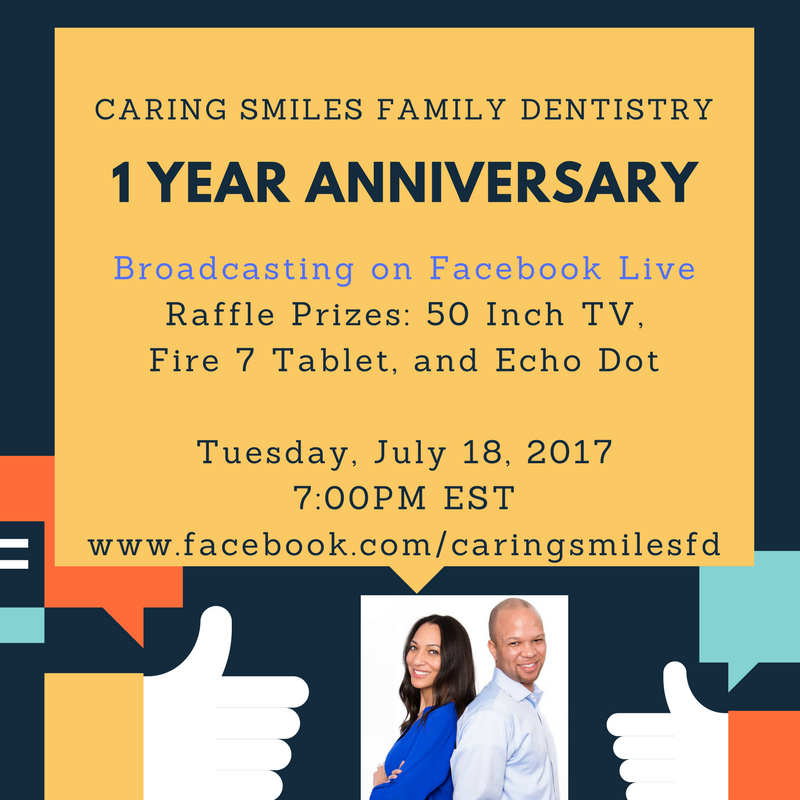 On July 18th, 2017, we will be celebrating the one year anniversary of Caring Smiles Family Dentistry. We have had an awesome first year and we want to thank you for all of your support. We will be broadcasting LIVE on Facebook. Since this is LIVE on Facebook, no physical attendance is needed. Join the fun no matter where you are by simply logging on to Facebook!
We will be giving away the following raffle prizes via Facebook Live:
1. Fire 7 Tablet: One lucky patient who answers our question correctly that we post on our Facebook and Instagram accounts on Sunday July 16.
2. Amazon Echo Dot: One lucky patient who stops by our office on Tuesday July 18 and fills out a raffle ticket between 9:00AM-6:00PM.
3. Grand Prize: 50 Inch HD LED TV: One lucky patient who has referred us at least one patient during this past year will win this grand prize.
All raffles winners will be announced on Facebook LIVE. We have some other fun surprises as well! Log on to our Facebook page on Tuesday July 18 at 7:00PM EST to join in on the fun: www.facebook.com/CaringSmilesFD
At Caring Smiles Family Dentistry, we love sharing great dental health tips, contests, and special announcements on our Facebook and Instagram pages. Please join us on our journey of changing lives one smile at a time.
If you have any questions about this or any other dental issues, or would like to make an appointment for a dental exam, cleaning, or consultation, please give us a call at 248.973.8788. We are here for you!