Kenya Smiles: Dental Mission Trip Of A Lifetime!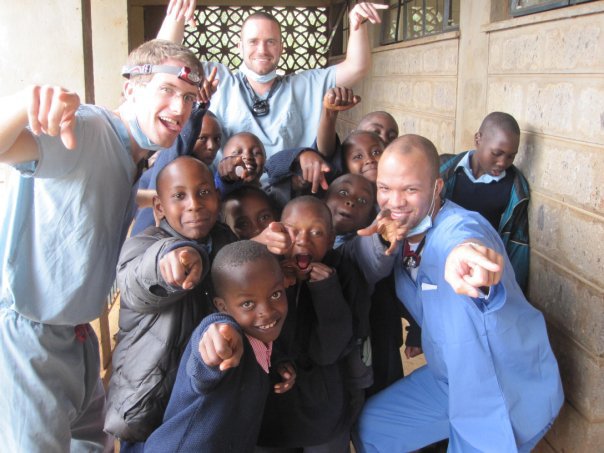 -By Dr. Warren E. Woodruff
In January of 2010, during my final year of dental school at the University of Michigan School of Dentistry, I had the opportunity of a lifetime to spend two weeks in Kenya for a dental mission trip.  I was accompanied with 4 other classmates and a dental professor.  During our time there, we were able to treat over 600 children and adults.  We also had an opportunity to go on an African safari in the Maasai Mara National Reserve.  It was definitely a life changing experience that I will never forget.  While I was there, I carried a journal so I could write down my daily experiences and eventually share them with others.  I wanted to share with you some excerpts from my journal entries along with some pictures and videos that I took while I was there.  I hope that you enjoy!
Excerpt from Journal Entry on January 9, 2010
"We are finally in the Motherland after 18 hours in the air!  The time is 8 hours ahead of Michigan.  As soon as I walked off the plane, I could feel the humidity.  It has been raining here for the past few weeks, which is highly unusual since they haven't had this much rain in the past few years.  The Kenyan airport was modern with a lot of stores."
"…..We had 2 drivers waiting for us when we arrived.  They were very nice and drove us to the P.C.E.A. Kikuyu Hospital area where our hostel is.  It was interesting driving through Nairobi, which is very modern.  Cars drive on the left side of the road here and the steering wheel is on the right side of the car. We stopped at a gas station and it seemed like the night hangout spot.  A lot of people and buses were gathered there.  Our driver mentioned that if you ride the bus, its stops at gas stations can last up to an hour based on everyone getting off and talking."
"….We are staying at the Kikuyu Orthopedic Rehab Center Guest Hotel.  The rooms are better than expected."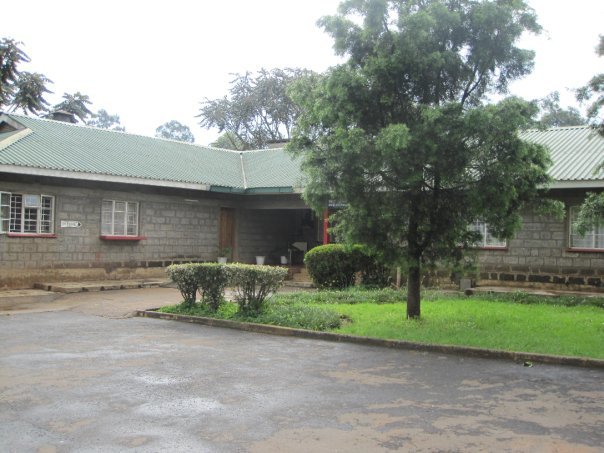 Our hostel that we stayed in at the Kikuyu Hospital.
Excerpt from Journal Entry on January 10, 2010
"Dr. Johnson Wambugu, who is the Kenyan dentist that we will be working with during our stay, invited us to attend his church.  It was really big and set up outdoors but under tents.  The music, dancing and technology used during the service was great.  Some of the songs that the choir sang were in Swahili and others were in English.  Swahili is the native language here but most people speak English as well.  The female pastor's message was really good.  It was titled, "God," and discussed how we should stop living for ourselves and put God first."
"…. After church we took a tour of the Kikuyu hospital.  The dental clinic was very modern and had a lot of items that had been donated by dentists in the United States.   We met the lab technician.  His name is Fred.  His ancestors are from the "Lou" tribe, which is also the same tribe that President Barack Obama's ancestors are from.   He is very nice.  I can see us becoming good friends.  Tomorrow we will be treating about 200 orphan kids at a boarding school.  I am ready to help to make a difference!"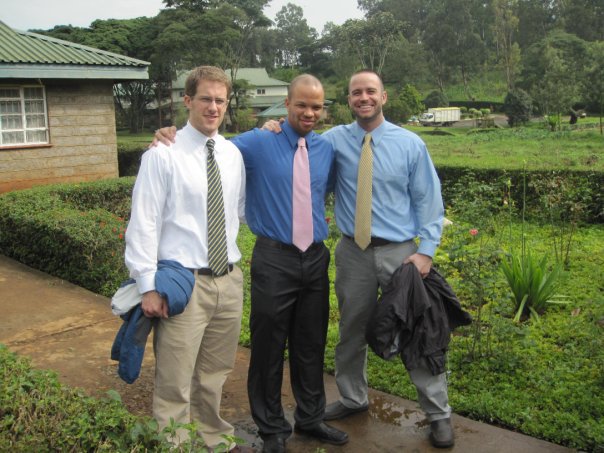 From left to right: Dr. Ross Ryan, Dr. Warren Woodruff, and Dr. Ryan Shinska pose for a picture before heading off to church.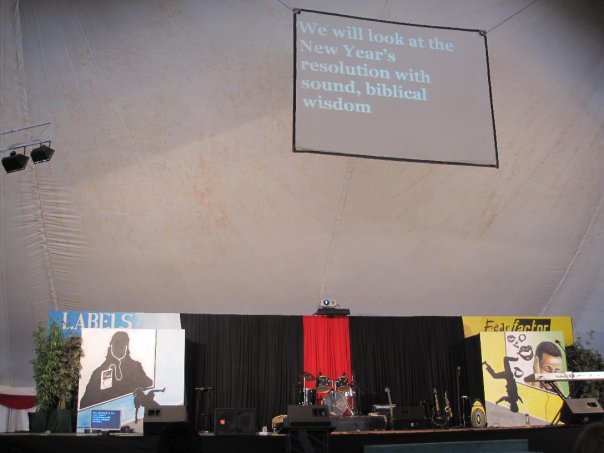 Inside the Kenyan church.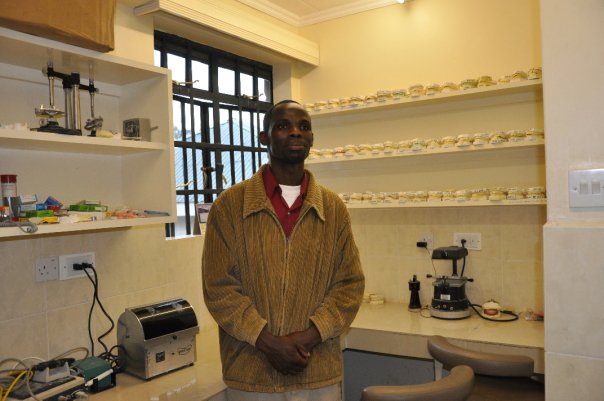 Fred, the dental lab tech at the Kikuyu Dental Clinic. Definitely a great individual! 
Excerpt from Journal Entry on January 11, 2010
"Today we went to the boarding school.  We screened 185 students and gave them oral hygiene instructions, toothbrushes and toothpaste.  We also decided which children would need actual dental work performed on them, and made a note as they would come to the Kikuyu Dental Clinic later on in the week.  The children's ages ranged from 5-19.  They were very cute, and they loved taking pictures and seeing themselves in the view screen of our cameras.  They fed us 2 meals.  It seems like it is a custom in Kenya to give visitors tea or coffee.  I learned that Kenya is the second largest producer of tea."
"Most of the roads are made of dirt or gravel so driving here can be an adventure.  Very bumpy at times and there are a lot of potholes."
Video of KDHC school children smiling for the camera.
Members at the KDHC school singing the Kenyan National Anthem.
Excerpt from Journal Entry on January 12, 2010
"Today we traveled to the P.C.E.A. Kibwezi Educational Center in Kibwezi which is about 200 km (4-5 hours depending on the route you take) southwest of Narobi. We took the more scenic route on the way there where we began going down the Mombasa Highway which leads to the Indian Ocean.  The Indian Ocean is about 300 km southwest of Kibwezi if you continue following the Mombasa highway. We were able to see Mount Kilimanjaro, which is the largest mountain in Africa, from a distance.
We had a lot of animal sightings along the way as well. We saw giraffes, zebras, aardvark, monkeys, donkeys all on the side of the roads. On our way to Kibwezi we traveled through the mountains, which were hundreds of miles above sea level. We were almost up in the clouds. It was very beautiful.
When we finally arrived to Kibwezi, we had 350 school children waiting to have oral screenings. They ranged in age from 4-21. The younger ones were really cute and wanted to hold your hand as you walked them back to the station to be seen. We decided which ones needed immediate extractions and possible fillings. We then treated those patients on the site with our portable set up. The children loved taking pictures and asked us to play soccer with them."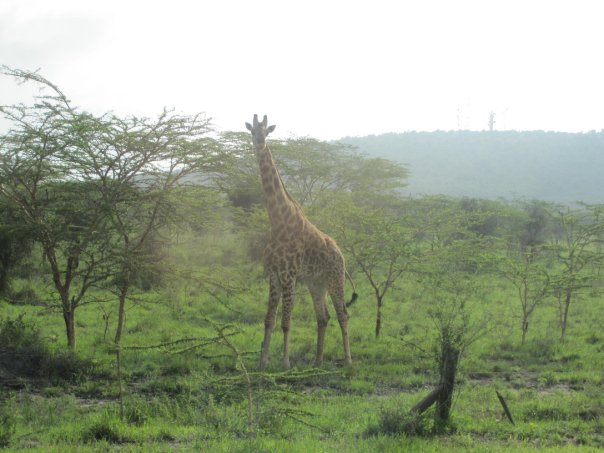 First animal sighting on side of road!!!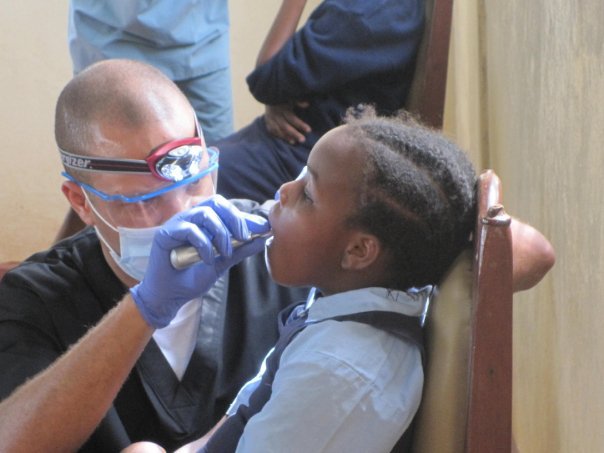 Dr. Warren Woodruff working on a child in Kibwezi.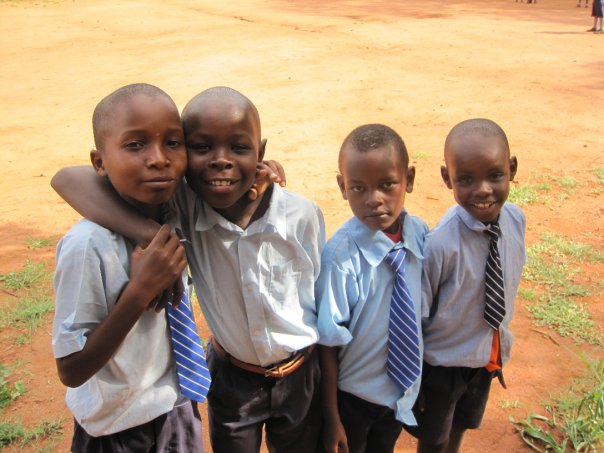 Children at Kibwezi posing for a picture after their soccer game.
Excerpt from Journal Entry on January 13, 2010
"Today we went to Nyeri which is about 125km northwest of Nairobi.  It is about 50 km south of Mount Kenya which is the second highest mountain in Africa. It is also located right on the Equator. Nyeri was the last home of Robert Lord Baden-Powell, the founder of the worldwide scouting movement. Every year boy scouts, girl scouts and cub scouts travel from all over the world to here to visit the memorial.
On our way to Nyeri, we saw a lot of tea, coffee, maize, banana trees and pineapple farms.  When we finally arrived to our destination of the PCEA Wandumbi Special School in Nyeri, we were a couple of thousand feet above sea level. We screened about 130 special needs students today. They were special needs kids from all over the country. The teachers gave us lunch and tea. One of the students had on a Michigan Wolverines sweatshirt so we made sure to take a picture with him.
After we left the school, we went to Dr. Johnson Wambugu's childhood home. It was about 15 minutes from the school. It was also up in the   mountains. His mother, cousin and 90 year old grandmother were there.   We had a chance to meet them all."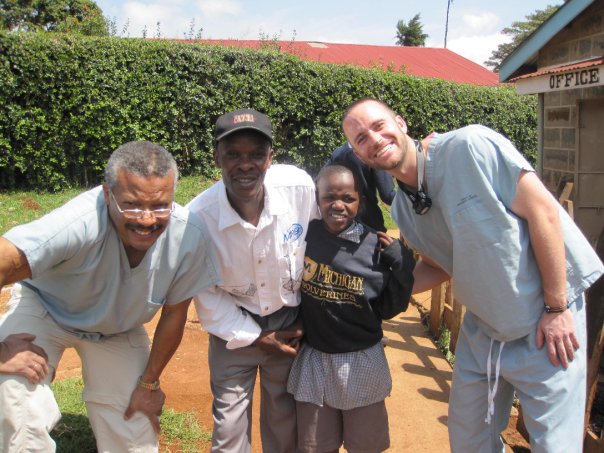 Dr. Kenneth May and Dr. Ryan Shinska with a kid wearing a University of Michigan sweatshirt.  Go Blue!
Excerpt from Journal Entry on January 16, 2010
"…The Kenyan dentist took us through the slums in Karibe because he really wanted to enlighten us on how life is for many Kenyans and people in general in Africa. It was a very moving image of about 4 million people living in maybe a 5 mile radius. Everything was closely packed together and the smell wasn't the best either since sanitation and garbage is a big issue. Lots of people's  homes were made out of either aluminum, mud and/or soil. The worst of  the worst were made out of cardboard. It really put life in perspective when what is considered "poor" in the U.S. is considered a  life of luxury in Kenya.
Later on during dinner, the Kenyan dentist explained to us his reason for taking us there. The first question he asked us was, "Why is Kenya so poor?"  It really made us think because he mentioned that it is not because of what we see on the news. He said it was because of local issues, national issues, and international issues. He first mentioned that Africa has the majority of the worlds natural resources (oil, gold, diamonds, etc.) but Africa is one of the poorest continents in the world. He explained how the slums were created.
Hundreds of years ago when the European colonies came into Africa, they forced many Africans out of their land and into these small areas as they conquered more and more land. These small areas eventually turned into the slums we see today. On a national level a lot of African countries are fighting each other just simply based on greed.  They don't want to sacrifice anything. In Kenya, Lake Victoria is the second largest fresh water lake in the world behind Lake Superior. It is actually where the Nile River begins which flows all the way through Egypt. It is the main supplier of fresh water to Egypt.  Hundreds of years ago, a British colony of Egypt made a pact that  still stands today that no one else is allowed to use the water except Egypt.  Which has caused a problem in Kenya, especially when it comes to droughts. Before a few weeks ago, it hadn't rained in 2 years here.  Also, a lot of people who are dying from dehydration cannot get fresh running water from here. If Kenya were to attempt to use the water, a huge war would start between Egypt and Kenya.
The Kenyan dentist mentioned this to all of us because he wanted us to go back home and understand the real truth about Africa. He also is giving us a list of books and movies to read and see about Africa. He mentioned that most people come here, see how bad some places are and feel bad and just think that if they send a check, it will make things better.   They believe that by sending that check, that the have done their God given duty to help others less fortunate. There is a lot more to it.  Just writing a check won't make a difference since it probably won't go to the right place. He mentioned by installing one toilet in the slums, which may cost a few thousand dollars, could supply 1000 people a day.  This could decrease all the potential diseases that come with not having proper toilets and sanitation.  He really feels that our group can make a difference. One example could be supporting a person through grade school to college, which could have a positive effect for generations to come.
Also, we could talk to dental supply companies and provide the materials for when the clinic we worked at does go on these outreach trips, they are able to treat people who otherwise would not be able to receive treatment.  The Kenyan dentist mentioned that for $7000 he could treat 300 people, which is unimaginable in the U.S.  Also, $100 could feed 100 people two meals per day for one week.  He mentioned that there are only 4 dentists in the entire country of Malawi, which has a population of 25 million so you can imagine how much help is needed there.  So yes this trip has really given us a new perspective and outlook on life and how much power we have to help make a difference."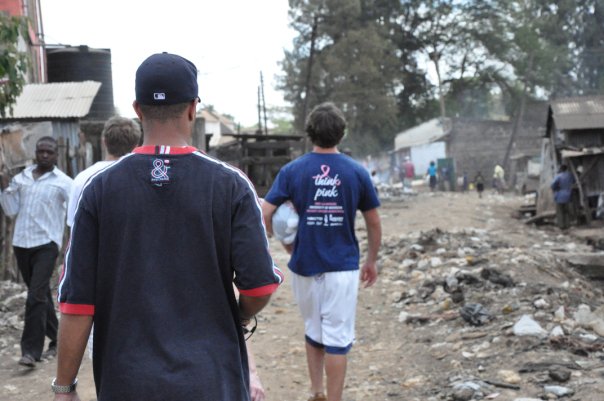 Walking through the slums.  A very moving experience.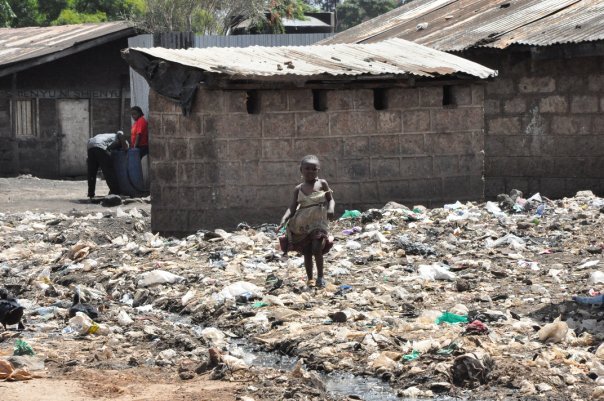 More of the slums.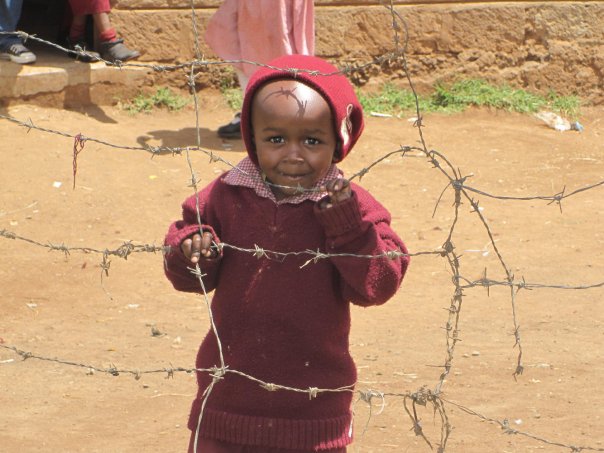 A very cute little kid.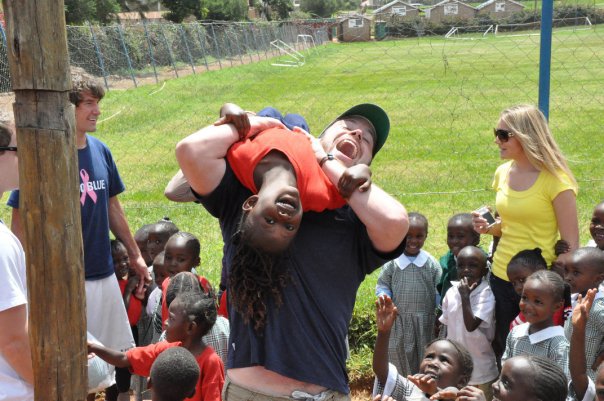 Dr. Ryan Shinska having fun with some of the kids.
Excerpt from Journal Entry on January 20, 2010
"We have just returned from our three day excursion to the Massai Mara National Reserve where we went on an African Safari. It is probably one of the best animal reserves in the world. We drove from Kikuyu which was about a 5 hour drive. We went through a travel agent that set us up with a driver/tour guide, overnight accommodations, and 4 wild game drives in the national park.  Our driver was really nice. His name was Steve.
On our way there, we went through Rift Valley which runs 6000km from Jordan clean across Africa to Mozambique.  It was certainly a spectacular sight to see. We then proceeded through the town of Narok which was the last main town before Maasai Mara (about 100km away).
On our way, we passed many animals walking along side and across the road. Some included giraffes, zebras, gazelles, goats, and cattle.  There were also many members of the Maasai tribe walking cattle and goats. The Maasai are known for being tall, wearing bright red cloth and beads.  Many of them would wave at you from the side of the road.  Especially the children. When we finally arrived, we checked into our tented camp called Ol-Maran. It was really nice and about 2 years old.  There was a very modern lobby/dining area that was partly inside and outside. There were about 30 tents. Each tent consisted of a bathroom with a shower. There was also 2-3 beds in each tent and a table with a few chairs. It was a lot nicer than expected. The tented camp was about 10 minutes outside on the National Game park and right in the Maasai village. Some members of the Maasai were employed at the hotel. They were all extremely nice and it was very interesting getting to know them. We arrived on Monday around 1pm, had lunch, relaxed in our rooms until our first wild game drive in the national park at 4pm.
Entering the park was exciting. I felt like I was in Jurassic Park. The top of our vehicle could open so you could stand and videotape or take pictures. You are not allowed to leave the vehicle once in the national park. The national park was huge as it spans for hundreds and hundreds of miles. During the first wild game drive we were able to get really close to cheetahs, zebras, elephants, warthogs, buffalo, wildebeest, topi, gazelles, impalas, waterbucks and lions. It was cool seeing a male and female lion who were lying down and taking a nap. We later came across 3 lions who were eating a buffalo that they had killed the night before. Between myself and my classmates, we were able to capture great pictures and videos that we will all combine when we return home."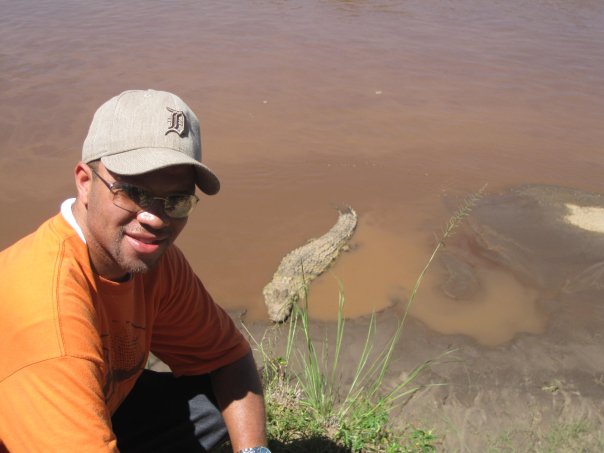 Dr. Warren Woodruff with a crocodile in the background. (Photograph featured in the Detroit Free Press "Travel With The 'D' gallery (Photo #29)  (March 2010))

"When we returned back to the tented camp on Monday night around 7pm, we had dinner which was really good: chicken, fish, rice, vegetables, vegetable soup. The tented camp is run on generators and solar power since there is no electricity. The generators run from 5:45am-8:30am and in the evening from 6:45pm-10:00pm. During that time you will have lights in your tents and power outlets to charge any batteries. They supplied us flashlights as well. When the power goes out at 10pm there are Maasai members who work for the hotel that patrol the area using flashlights for any possible animals since we are not too far from the national reserve and animals stray outside of the national reserve. The first night we actually heard some unique noises that sounded like wild cries. We found out the next morning that a hyena had been spotted. Also farther out a leopard had been spotted as well."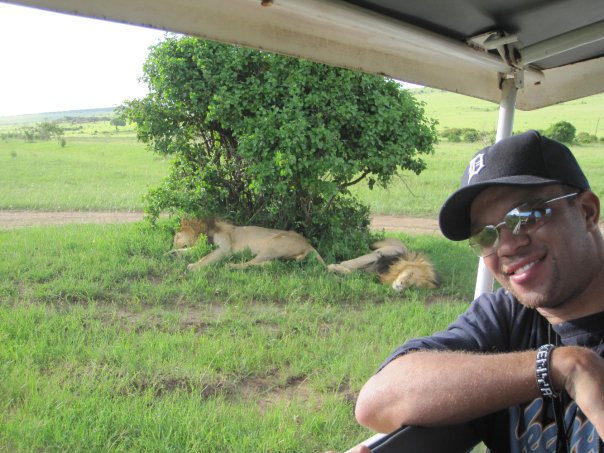 We spotted some Lions taking a nap while on the safari.
"The next morning, we woke up for breakfast at 8am and headed out for our next wild game drive around 8:30. We were provided a packed lunch so we could stay out in the park longer without having to come back to eat. We saw giraffes, elephants and cheetahs. We drove by the site where the lion had been eating the buffalo from the day before, there were now vultures around the specimen and it had been eaten down to the bone. We also saw a lion family with 4 baby cubbies.We drove to another nicer hotel inside of the national park for a break. There were many vervet monkeys around that have the tendency to steal food and anything else at hand. One of the monkeys actually took a juice box from one of my classmates packed lunch. After lunch we saw hippos and crocodiles and had a chance to cross the border into Tanzania and take a picture since some of the national park is in Tanzania."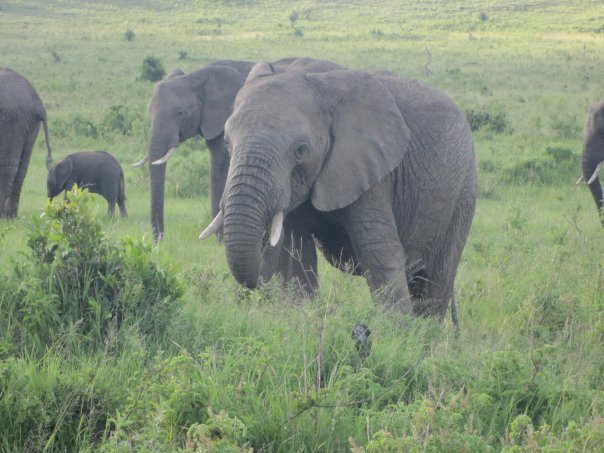 There were a lot of elephants in the National Reserve.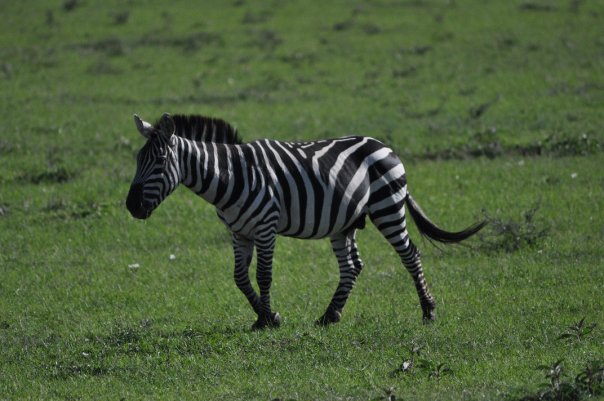 Beautiful zebras.
"We then returned to our tented housing and relaxed and then had dinner. The staff there was extremely nice and we had a good time talking to them.  We sat outside after the generator went out at 10pm to look at the stars. It was the clearest sky I had ever seen in my life. I had never seen so many stars before. I guess the clouds and pollution hinders the visibility of all of the stars in the United States. We had a chance to talk to one of the Maasai men who were patrolling the area. He showed us his necklace that had a lion tooth on it. On their culture, the man has to kill a lion in order to become a true Maasai man.  He said he had killed two.  On Wednesday morning, we went on our final wild game drive. We followed two cheetahs around for a while as it seemed like they were in the process of trying to hunt. There was a herd of topi that it seemed like it was headed towards. And the topi continued to back off.  Eventually the leopards ended up just sitting in the shade. We also spotted a dead gazelle hanging from a tree.  It was probably placed there by a cheetah or leopard.  Overall it was a great experience."
Here is the website of the PCEA Kikuyu Hospital and Volunteer/Career Opportunities: Click Here To View It
Please feel free to leave any questions or comments that you may have in regards to my trip.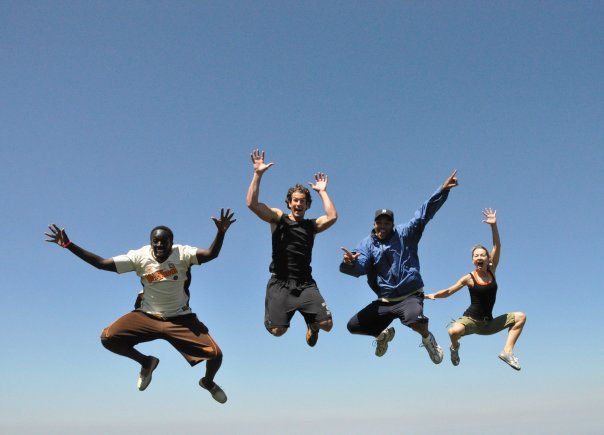 At Caring Smiles Family Dentistry, we love sharing great dental health tips, contests, and special announcements on our Facebook and Instagram pages. Please join us on our journey of changing lives one smile at a time.
If you have any questions about this or any other dental issues, or would like to make an appointment for a dental exam, cleaning, or consultation, please give us a call at 248.973.8788. We are here for you!