Dr. May Releases Children's Book In Sync With National Children's Dental Health Month: My Wiggly Smile: Olive's Stubborn Little Tooth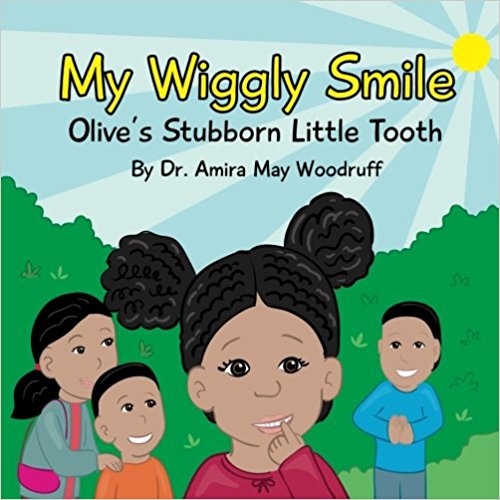 February marks National Children's Dental Health Month and Dr. Amira May Woodruff couldn't be more excited to debut her first published book, "My Wiggly Smile: Olive's Stubborn Little Tooth.""I work with children and families every day alongside my husband at Caring Smiles Family Dentistry. The young ones can be nervous at first, but are always excited to show us their loose teeth. They inspired this book. It is our mission to provide the best care and make their trip to the dentist a fun one," said Dr. May.
"My Wiggly Smile" follows Olive after she wakes up on her first day of kindergarten, with her first-ever loose tooth. Although the story is aimed at young children (ages 5-6), it is valuable for readers of all ages due to its educational themes and enclosed coloring chart to keep track of lost baby teeth. Dr. May encourages children to take their books with them to their dental appointments. It might even ignite future career goals in the minds of its readers.
"When I was six years old, I told my dentist I was going to be a dentist like him one day. I loved going because they made it fun instead of scary. Now that I am a dentist, I treat children who've either endured a bad experience before we've met or who've been influenced by others to believe that a trip to the dentist is undesirable. The best part about my job is that I have the opportunity to change their perception into a positive one," said Dr. May.
An accomplished, multi-faceted dentist, Dr. May can now add author to her repertoire of talents. When she's not treating patients, she enjoys acting, painting, traveling, and spending time with her family and friends.
"I wish there was a book like 'My Wiggly Smile' when I was a child. It is my desire to provide more reading materials to inspire young people of all backgrounds to pursue a career in dentistry. We are blessed to live in such a diverse community here in Oakland County. In honor of Black History Month, it is special to serve as an example to children of color and all young girls that there is a dentist out there who looks like them," said Dr. May.
If you have any questions regarding nutrition and your oral health, feel free to contact us at (248) 973-8788. In the meantime, remember to take care of yourself and your health.
At Caring Smiles Family Dentistry, we love sharing great dental health tips, contests, and special announcements on our Facebook and Instagram pages. Please join us on our journey of changing lives one smile at a time.