What is a Flossing Cavity and How Can I Prevent It?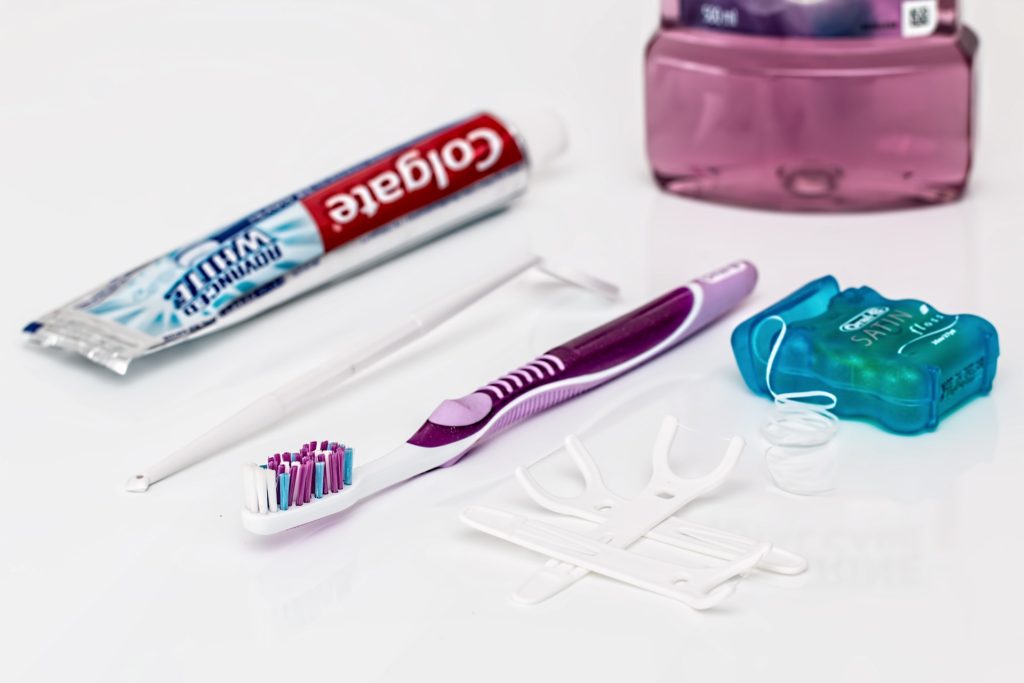 We see the following scenario unfold pretty commonly in our office between patients and our dentists:
Dentist: Ms. Jones, when I examine your teeth, I can see that you are doing a great job brushing. I don't see any cavities on the chewing surfaces of your teeth.
Ms. Jones: Thank you! I use my electric toothbrush two times a day and brush for two minutes. I can feel the difference of not having plaque build-up on my teeth after using it.
Dentist: I do want to point out a few areas of concern that I saw on your dental x-rays that we took today. Before I show you the x-rays, let me ask are you flossing daily?
Ms. Jones: Not really. I just find it time consuming and in the morning I am usually rushing trying to get ready for work. At night, I usually end up forgetting to floss.
Dentist: Well Ms. Jones, there are areas in between your teeth that your toothbrush cannot reach where cavities have started. We like to call them "flossing cavities."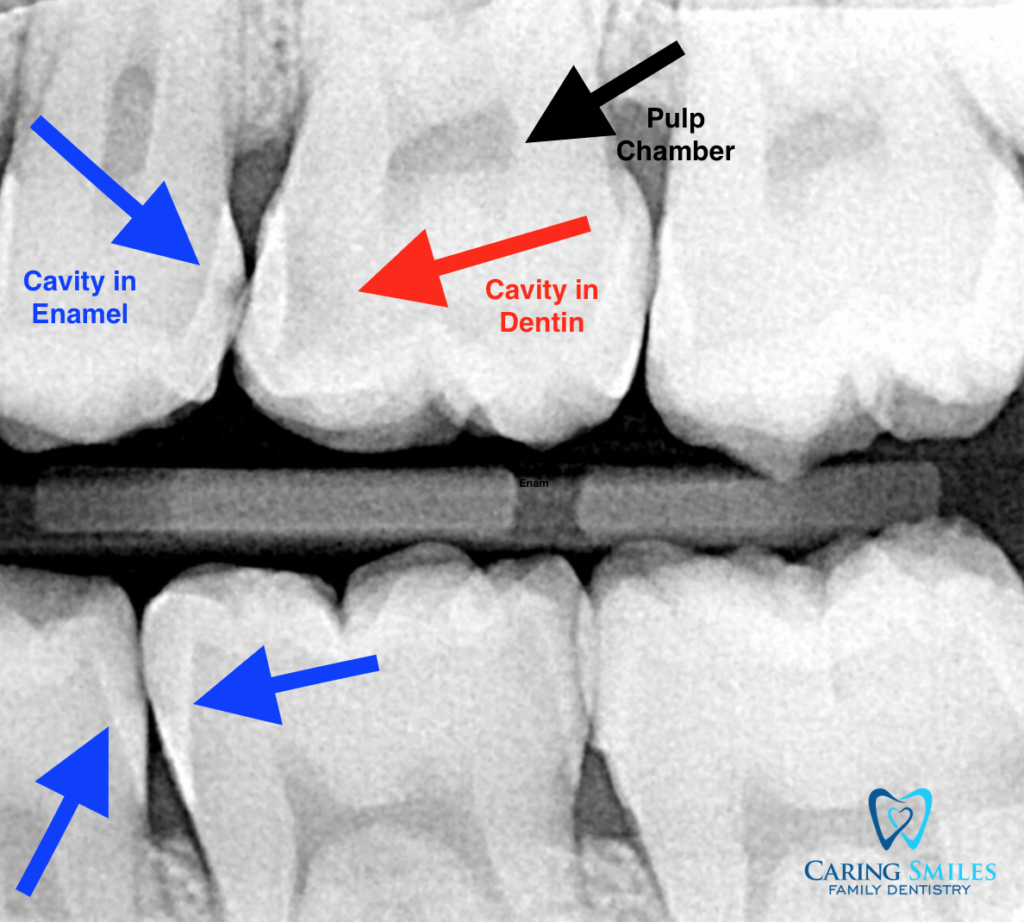 In the above picture, you can see where these cavities have started in between Ms. Jones teeth. We call these interproximal cavities "flossing cavities" because they are normally present in people who do not floss and also have a lot of sugar in their diet.
A lot of times, these cavities are not visible to the naked eye but do show up on dental x-rays. This is why it is important to have routine dental x-rays taken so your dental provider can diagnose and treat any cavities when they are still in the early stages.
The blue arrow in the above picture shows a cavity that is still in the enamel (white) layer of the tooth. There are usually no symptoms associated with these cavities. When left untreated, a cavity can increase in size and work it's way into the dentin (inner) layer of the tooth. When a cavity is in this layer there can be the following symptoms:
Sensitivity to cold and hot

Sensitivity to eating sweets

Pain or discomfort when chewing food
If a cavity is left untreated after it has reached the dentin, it will rapidly expand and work its way to the pulp of a tooth. When a cavity reaches the pulp of the tooth, it can result in a toothache that lingers for a long time. At this point, root canal therapy, a filling build-up (core), and a crown would be recommended if one wanted to save the tooth.
The good news is that flossing cavities are 100% preventable by limiting sugar intake, flossing regularly, and/or using a Waterpik Waterflosser. Here is a demonstration from Dr. Warren on how the Waterpik Waterflosser works.
The Waterpik Water Flosser was awarded the American Dental Association (ADA) Seal of Acceptance. We recommend using 10% mouth rinse and 90% water with this product. Use twice a day in the morning and at night.
---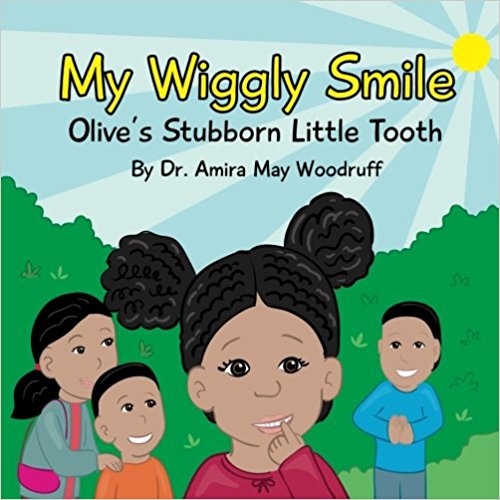 Dr. Amira May Woodruff couldn't be more excited to debut her first published book, "My Wiggly Smile: Olive's Stubborn Little Tooth.""I work with children and families every day alongside my husband at Caring Smiles Family Dentistry. The young ones can be nervous at first, but are always excited to show us their loose teeth. They inspired this book. It is our mission to provide the best care and make their trip to the dentist a fun one," said Dr. May.
"My Wiggly Smile" follows Olive after she wakes up on her first day of kindergarten, with her first-ever loose tooth. Although the story is aimed at young children (ages 5-6), it is valuable for readers of all ages due to its educational themes and enclosed coloring chart to keep track of lost baby teeth. Dr. May encourages children to take their books with them to their dental appointments. It might even ignite future career goals in the minds of its readers.
"When I was six years old, I told my dentist I was going to be a dentist like him one day. I loved going because they made it fun instead of scary. Now that I am a dentist, I treat children who've either endured a bad experience before we've met or who've been influenced by others to believe that a trip to the dentist is undesirable. The best part about my job is that I have the opportunity to change their perception into a positive one," said Dr. May.
An accomplished, multi-faceted dentist, Dr. May can now add author to her repertoire of talents. When she's not treating patients, she enjoys acting, painting, traveling, and spending time with her family and friends.
"I wish there was a book like 'My Wiggly Smile' when I was a child. It is my desire to provide more reading materials to inspire young people of all backgrounds to pursue a career in dentistry. We are blessed to live in such a diverse community here in Oakland County. In honor of Black History Month, it is special to serve as an example to children of color and all young girls that there is a dentist out there who looks like them," said Dr. May.
---
If you are looking for a dentist, we would be happy to see you. We are conveniently located in the Beaumont Medical Center of West Bloomfield on Orchard Lake Road, between Maple and 14 Mile.
Call us at 248-973-8788 to schedule an appointment.
We love sharing great dental health tips, contests, and special announcements on our Facebook and Instagram pages. Please join us on our journey of changing lives one smile at a time. 
**Some of the links on this page are affiliate links. We are a participant in the Amazon Services LLC Associates Program, an affiliate advertising program designed to provide a means for us to earn fees by linking to Amazon.com and affiliated sites. This means that if you make a purchase, we may make a small commission. With this commission, there is no additional cost to you. We recommend these products because we personally use them and they work.